---
Captain Neil Hudson saves the William C Daldy
---
The William C Daldy was delivered to Auckland in January 1936 and worked diligently up to 1977 when she was laid up for retirement. Thankfully Captain Neil Hudson recognised the value in the tug and made haste to save her from a scrap heap fate.
Whilst working as the Master on board the steam crane "Hikinui" Neil recognised that the Daldy had been laid up and started looking into what could be done to save her. He would regularly visit the old ship and ensure the scuppers were clear and that the funnel cover was installed to ensure no water entered the boilers. Because of this, the Daldy was able to be resurrected and steamed up once more.
The Daldy was bought for $1 from the Auckland Harbour Board, which they then donated back to the newly formed society, We know have that proudly displayed down in the Saloon area of the ship along with a few other artifacts. Once the ship was in the control of the society, Neil scraped enough money together to have her docked and the work began there to scrape and polish the hull manually until she was ready to sail again!
If it wasn't for diligent maintenance by the Auckland Harbour Board and the sheer determination of Neil Hudson, we wouldn't be able to enjoy this piece of history today, the Tug is in great shape today because of the forethought that these people had to save her!
Have a look here to see Captain Hudson speak about the old days of the ship and how she was saved from the scrapyard!
---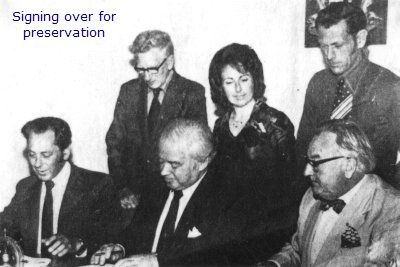 Auckland Harbour Board signing the Daldy over
While initially leased to the Society for a number of years, eventually it was sold for $1 in 1989